Have you gotten a message from the web site saying 503 Service Unavailable – perhaps when trying to login?
Well please let me know!
WTF?
This error usually only occurs when a web server is overloaded, however you may get this error if you try to login from a country where we have had issues with spammers.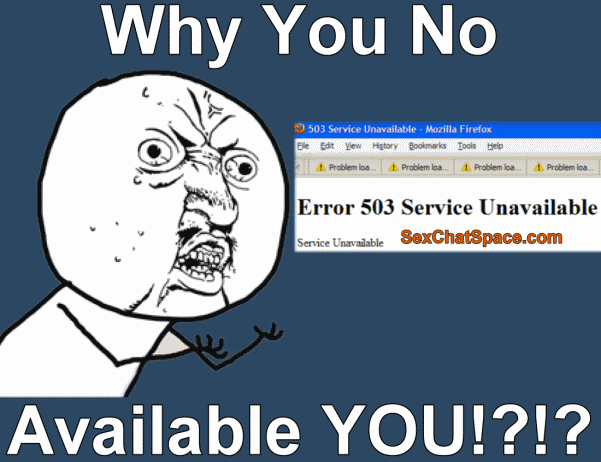 So this error is part of our new layer of security.
If you get this error, you can send a note to the site admins explaining what country you are in, and why you want to log into the private messaging / profiles area of sex chat space. I may check into things and see if there is something we can adjust. However if you are coming from one of the top 10 countries where we get lots of spam attacks, there may be nothing we can do to allow access to certain areas of the site for you.
In some cases we will do a broad range ban against various ISPs (Internet Service Providers) – usually if you get some weird error message like 403 forbidden, or something like that, then you are attempting to use our site, or one of our services from a network that has either been blocked for excessive spamming, or because you, or someone else that uses the name ISP has been banned from our system for violations of our terms of service, or etiquette rules.
So if you get one of these errors, you can send a note to Nash to ask about it – maybe we can research the issue and find a way to unblock you. Although that is rare.
Hopefully none of our users will every run into one of these situations, but if you do, most of the time it was an unintentional side effect of someone else doing something in your country or with the same ISP. Sometimes it is a way for us to send a particular person a message, and that person writes in asking about it. When they could of simply read the terms of service and rules and figured out that they have been blocked with the intention of a permanent ban.
If you have not violated any rules, and you have a connection problem like this, let me know and I will check it out.
Contact info via scsc – or contact form via global adult media form.